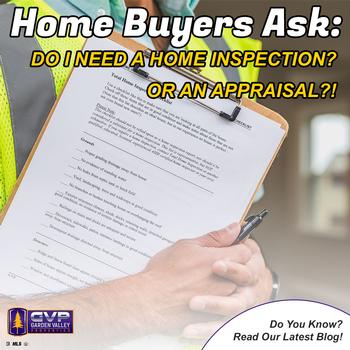 What is a Home Inspection? Info for Idaho Home Buyers
Posted On: 2023-05-10 11:19:05.42
One of the early important steps when looking to buy a home in Idaho is to get a home inspection! A home inspection assess the condition of the home before closing and finalizing your home purchase. So, WHY is it important?

As the buyer having the home inspected helps you be aware of any existing, or potential future problems that the home might have. These can range from minor things like window drafts to larger things like foundation cracks - all of which will help you as the home buyer make an informed decision about your purchase. What's more a home inspection, and what it might discover, can even impact the cost of the home when you get to signing paperwork!

Speaking of home costs! You might be wondering how this compares to a HOME APPRAISAL. A home appraisal relates more directly to the market value of the home and is sometimes a recommended step from your lender as the value of the home is the amount which generally you will be borrowing against.

In short, an appraisal helps you understand a home's value, whereas a home inspection helps you understand a home's condition. BOTH are good ideas for buyers looking for their next perfect place - but! Take heart, you don't have to go it alone - your team of dedicated Idaho mountain real estate professionals here at GVP is ready to help! Give us a call or send a message today so we can help guide you home!