March is National Reading Month!
March is here and we are so happy about that! The sun is shining, the snow still looks beautiful, and we are all hopeful that spring is right around the corner. Another wonderful thing about March is its designation as National Reading Month, which was created to motivate people of all ages across the country to read something every day!


March is a favorite for the kids at Garden Valley School because they get to celebrate Dr. Suess week! We all know and love the fun, colorful, and sing-song stories written by Dr. Suess. Did you know that March 2nd is Dr. Suess Day, as well as Read Across America Day? The students at Garden Valley School get to experience an entire week of wacky, silly, funny dress up days paired with fun reading activities to celebrate and encourage a love of reading.

If you would like a few recommendations for books, those of us at Garden Valley Properties are often sharing our recently read books with one another. You can always stop in to discuss a great book you have read recently. Better yet, talk to us about property or a home that can someday house your own spectacular home library! In the meantime, I have read a few books lately that I would love to recommend!

For those of you who enjoy non-fiction, I recently listened to Priceless by Robert K. Wittman with our 3 children (who are 13, 11, and 7). All of us loved the stories of intrigue told by Mr. Wittman, who is the founder of the FBI's Art Crime Team. This book is an amazing account of events most of us have never heard of, personal yet professional, incredibly interesting, and full of interesting information about priceless art and historical artifacts. This one is great for all ages!

If you enjoy fiction that is based in historical fact, I recommend Before We Were Yours by Lisa Wingate. This novel delves into the history, scandal, and secrets of the Tennessee Children's Home Society orphanage. This book is beautifully written, and love that it is also historically accurate. While the characters and circumstances are fictional, much of the structure of the story is true. If you do read this book and enjoy it, I have an additional recommendation: I urge you to also read Before and After by Judy Christie and Lisa Wingate. Before and After is a compilation of real-life stories of orphans who survived the Tennessee Children's Home Society, and it also goes into more detail about how the orphanage worked and how they stayed in business for so long. It is utterly fascinating!

The last recommendation I will make here is one for children, but I would highly consider making this one a read-aloud for your family or classroom. Paper Wishes by Lois Sepahban is geared toward middle school aged children, but it appropriate for all ages. Paper Wishes tells the story of a girl whose family is relocated to a Japanese internment camp during World War II. I love that this story teaches about history, hope, and overcoming obstacles. We are discussers in our home, and this book prompted so many great discussions with our kids! I felt like we all got a lot more out of this book than the story itself, because it planted seeds of interest in all of us that led to further research on this part of our collective history that is often not taught.

Happy National Reading Month everyone!

Contact us at 208-462-4620 for real estate help or just to chat about your favorite reads!
Snowy Snow Ice Cream Cones!
It's Winter time at last in Idaho and that means plenty of snow! Other than being fun to play in and watch come down from inside your cozy warm cabin, snow can also make a wonderfully delicious old time treat that folks have been enjoying since the pioneer days!

All you need is some evaporated milk, sugar, vanilla, and the star of the show: fresh snow!
Stir the first three ingredients together, mix in the snow, and you have a delicious vanilla treat that only takes about 5 minutes to make.

Ingredients

1 can evaporated milk (12 ounces)
1 cup granulated sugar
1 teaspoon vanilla
Bowl of Snow (about 1/2 gallon)

Instructions

In a small bowl, mix the milk, sugar, and vanilla together until well combined.
In a large bowl, add about 8-10 cups of snow. Pour the milk mixture over the top and stir well to combine. The texture will be close to that of homemade ice cream (thinner than store-bought ice cream but still have some structure when scooped).
Serve right away, adding sprinkles if you'd like.

Delicious!
Here's a link to the full recipe and more details and in the meantime if you find yourself short on snow come on up to Garden Valley, we're happy to share!






Relocating to Idaho? Here are some great moving tips!
Getting your property sold is only the first step in your relocation journey; fact is the moving itself can be one of the most stressful parts of the whole process. We want your move to be as easy as possible, and while our agents help make sure everything is handled on the paperwork side of things we've put together some helpful tips for all the rest of things.

Packing Too Much
One of the biggest mistakes you can make it moving a bunch of stuff you don't need! Moving is an excellent time to pair down clutter, and there's no point in moving stuff to your new home just to throw it away there. Less stuff, less to move!

Waiting Until the Last Minute
Failing to plan is planning to fail! Don't wait until the last moment to start packing - or worse yet to find a mover! Things will move pretty fast once the paperwork is signed, so you should be starting to get things put away long before that.

Hiring a Shady Mover
Take a little extra time to find a good mover. Talk to friends, ask your real estate agent, and shop around for a bit before just picking AAA Movers because they're the first one listed. You want to make sure your mover is not only one that is concerned with taking care of your items but is also providing a good cost for their services.

These three simple things will be a big help in making your move hassle free!
If you're stuck on selling your current Idaho home, or are looking to buy a new one just get in touch!
February is a time to celebrate!
February might be the shortest month of the year, but it's chock-full of national holidays
and observances!

In February we celebrate culture, history, food and even our beloved
pets. Below is a list of just a few of the 100's of national holidays and observances for
the month of February.

Find a reason to celebrate this month, but don't forget that
everyday is a great day for a visit to Garden Valley Idaho!

February 2nd – It's Eat Ice Cream for Breakfast Day.

February 4th – It's Stuffed Mushroom Day.

February 6th – It's National Chopsticks Day.

February 9th – It's National Pizza Day.

February 10th – It's Umbrella Day.

February 11th – It's Make a Friend Day.

February 11th – It's White T-Shirt Day.

February 12th – It's Abraham Lincoln's birthday.

February 13th – It's Get A Different Name Day.

February 14th – It's Valentine's Day.

February 14th – It's Organ Donor Day.

February 17th – It's Random Acts of Kindness Day.

February 18th – It's National Drink Wine Day.

February 18th – It's President's Day.

February 20th – It's Love Your Pet Day.

February 24th – It's National Tortilla Chip Day.

February 26th – It's Tell a Fairy Tale Day.

February 28th – It's Floral Design Day
Truth is, EVERY DAY is a reason to celebrate living!
All of us here at Garden Valley Properties hope that your new year is already off to a great start - and if it's not give us a call so we can help make it one!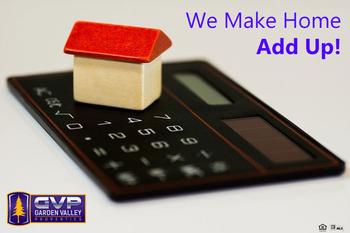 Should You Refinance Your Home Mortgage?

Most homeowners will consider refinancing their mortgage at least one time throughout the lifespan of their home. Refinancing your mortage allows you to pay off your previous loan by applying for one that will provide better financial benefits. While not every situation is the same, there are any number of reasons why this may be advantageous to you, but here are the most common ones.

Check your interest rate
The top reason homeowners refinance is to gain a lower interest rate. This saves money in the long run, decreases your monthly payment, and allows you to start building equity in your home sooner.

Shortening the loan's term
There is a chance you may be able to get a shorter loand term with almost no change to your monthly payment is interest rates are decreasing.

Switching from and adjustable rate to a fixed one
If you chose an adjustable rate mortage when you first signed because of good introductory rates you may have already found out that the rate decreases over the years. By switching to a fixed rate loan when interest rates are low you can gain protection from future market changes.

Cash out your equity
If there is a big purchase in your future - like a wedding, or major expense - your best choice might be to use the equity you've already built up in your home in order to borrow money at a lower cost.

Improve your credit
Your credit score has a big impact on your purchasing power, and even if interest rates in the market have not changed an improved credit score may be able to reduce your mortgage rate.

FOR MORE INFORMATION, CONTACT US AT 208-462-4620