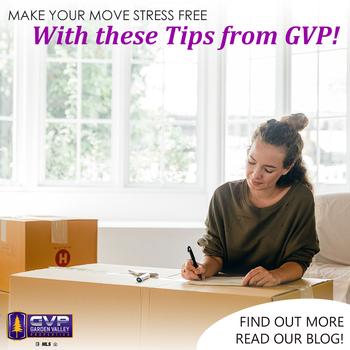 Tips For Making Your Home Move a Success!
Everyone loves the idea of a new home - but nobody likes moving!
Moving to a new home can be an exciting time, but it can also be stressful and overwhelming, especially when it comes to packing. There's so much to do, and it can be hard to know where to start. Thankfully, Garden Valley Properties is well experienced with helping their Idaho mountain real estate clients be prepared for the big day.


Here are three tips to help you pack your home efficiently and effectively:


Start early. The earlier you start packing, the less stressed you'll be on moving day. Give yourself at least two months to pack, if possible. This will give you enough time to declutter, pack each room one at a time, and avoid feeling rushed.


Declutter as you pack. This is a great opportunity to get rid of things you no longer need or use. Donate, sell, or recycle unwanted items. This will make packing easier and lighter, and it will also save you money on moving costs.


Pack with care. When packing, be sure to use sturdy boxes and packing materials. Wrap fragile items carefully to protect them from breakage. Label each box clearly with its contents and destination room.


Sure, you could just throw everything in a box and hope to sort it out when you get there, but that's only going to make it harder!
Here are some item specific tips for making sure your treasured items make it to your new place in tact with you sanity!


Clothes: Roll clothes instead of folding them to save space. Pack like items together, such as all of your shirts in one box and all of your pants in another box.


Dishes: Pack dishes in a dish barrel box with packing paper in between each dish. Wrap fragile dishes in bubble wrap or packing paper.


Glasses: Pack glasses in a box with packing paper or bubble wrap. Wrap each glass individually and place them upright in the box.


Electronics: Pack electronics in their original boxes if possible. If you don't have the original box, pack the electronic in a sturdy box with plenty of packing material to protect it.


Furniture: Disassemble furniture as much as possible before packing it. Wrap furniture legs and corners in bubble wrap or packing paper.


Packing to move can be a daunting task, but by following these tips, you can make it easier and less stressful! With a little planning and preparation, you can pack your home efficiently and effectively and make your move a success. We here at Garden Valley Properties aren't just here to help when it's time to do paperwork! We want you to be part of every step of the real estate process, and beyond, so that your new home can be a place of happiness for years to come!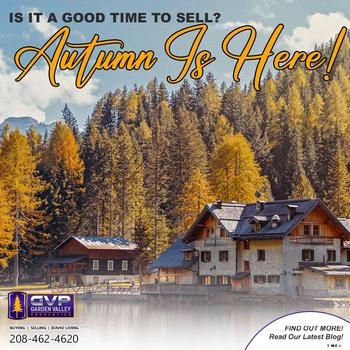 Should I Sell My Idaho Home When Inventory Is Low?
If you've been thinking about selling your home in Idaho you've probably been watching the markets for a while over Summer, looking at other competitive properties, and talking to a local experienced agent...rght? No? Not to worry! You can always start right where you are! You may have heard that inventory is low, or that the market is cooling off, but we're here to help you understand the benefits of selling your home in Idaho when inventory - so consider these benefits:

Higher sale price: When there are fewer homes for sale, buyers have fewer options to choose from, which can drive up sale prices. According to the Idaho Association of Realtors, the median home sale price in Idaho increased by 19.8% in the year leading up to September 2023.

Quicker sale: When there is more demand than supply, homes tend to sell more quickly. In September 2023, the median days on market for a home in Idaho was just 12 days.

More favorable contract terms: When sellers have the upper hand, they are in a better position to negotiate favorable contract terms, such as a higher purchase price, fewer contingencies, and a shorter closing timeline.

Of course, there are also some potential challenges to selling your home in a low-inventory market. For example, you may have to compete with other sellers who are also trying to sell their homes quickly. Additionally, you may have to price your home carefully to avoid overpricing it and scaring away buyers. However, if you are willing to work with a qualified Idaho real estate agent and price your home competitively, you can still be successful in selling your home in Idaho, even when inventory is low.

If you're considering selling your home in Idaho here are some good ideas!

Price your home competitively. This means doing your research to determine the fair market value of your home based on recent sales in your area. You may also want to consider getting a pre-listing appraisal to get an accurate estimate of your home's value.

Market your home aggressively. Make sure your home is well-presented and that you are marketing it to all potential buyers. You may want to consider using a variety of marketing channels, such as online listings, print advertising, and open houses.

Be prepared to negotiate. In a low-inventory market, buyers may be more willing to negotiate on price and contract terms. Be prepared to negotiate to get the best possible deal for yourself.

If you are considering selling your home in Idaho, talk to a qualified real estate agent - like us! - to get more information about the current market conditions and how you can position yourself for success. Here at Garden Valley Properties we've got the skills and experience you need to get your home sold - or to find your next home! We love this valley because we call it home!
Trunk Or Treat Garden Valley Idaho Community Event!
The air is crisp and the leaves are changing into their best Fall costumes! It must be nearly Halloween time! And in Garden Valley that means Trunk or Treat in Crouch! We just love this wonderful community event and here's what you need to know!

SATURDAY OCTOBER 28th 6:00 pm - 8:00 pm
Trunk Or Treat in Crouch, Idaho is a safe and fun place for the kids to dress up and get candy, win prizes, and play games! Adults can decorate their vehicles and hand out candy to all the kids too! Garden Valley Smiles will be grilling some treats and handing out great prizes.
Look for your favorite Idaho mountain real estate agents from GVP and say hello!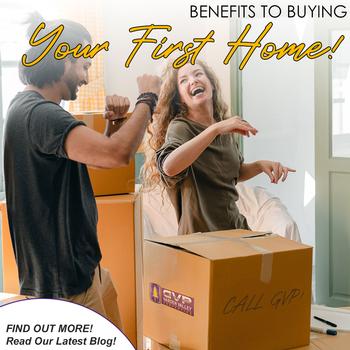 Benefits to Owning Your First Home
There's talk of a sellers market in Idaho but the fact remains that owning your first home is a good investment for a lot of reasons! It's a big decision that many hesitate to take on, while others carefully plan and look forward to it. Regardless of how you approach the process there's no denying there are benefits to owning your first home, so we've put a few of them together for you here!

Build equity
Equity is the difference between the current value of your home and the amount you owe on your mortgage. Over time, as you make your mortgage payments and your home value appreciates, your equity will increase. Owning a home is one of the best ways to build wealth over time! A study by the National Association of Realtors found that the median net wealth of homeowners was $388,400, compared to $129,200 for renters.

Gain financial stability
When you own a home, your monthly housing payment is typically fixed, meaning it won't increase unless you choose to refinance. This can give you peace of mind knowing that your housing costs will be predictable for the life of your mortgage. This financial stability can be especially beneficial for families with young children or those who are planning for retirement. Owning a home can also help you qualify for other types of loans, such as personal loans and business loans.

Create a place to call your own
When you own a home, you have the freedom to do whatever you want with it. You can paint the walls, renovate the kitchen, or even add a new room. You can also have pets and make changes to the landscaping without having to ask permission from a landlord, although some communities may still have bylaws to keep in mind. Owning a home can give you a sense of individual accomplishment as well as be a great place to raise a family and create lasting memories.

Call on us!
Owning a home is a major life decision, but it can also be one of the most rewarding! The benefits of homeownership include building equity, gaining financial stability, and creating a place to call your own. If you are considering buying your first home in Garden Valley or the surrounding area we hope that you will call on us!
Fall Homeowner Maintenance Tips!
Fall is a busy time around the house! Kids might be going back to school, or bow season in Idaho, or maybe just getting those last few camping trips in before the snow flies. Whatever it might be that keeps you busy there's always things that need to be done around the house to get it ready for the cold months ahead. We've put together a few of the lesser thought of items that we're sure you will want to put on your Fall home maintenance checklist!
Inspect and clean your dryer vent
Most homeowners know to clean their gutters in the fall, but many forget about their dryer vents. Dryer vents can accumulate lint and debris over time, which can create a fire hazard. It's important to inspect your dryer vent at least once a year and clean it if necessary.

To inspect your dryer vent, disconnect the dryer from the vent and remove the lint trap. Look inside the vent for any lint buildup. If you see any lint, use a vacuum cleaner to remove it. You can also use a dryer vent brush to clean the vent.

To clean your dryer vent, disconnect it from the dryer and remove the lint trap. Use a vacuum cleaner to remove any lint from the vent. You can also use a dryer vent brush to clean the vent. Once the vent is clean, reconnect it to the dryer and replace the lint trap.

Winterize your sprinkler system

If you live in a climate with cold winters, it's important to winterize your sprinkler system to prevent damage from freezing. Winterizing your sprinkler system is a relatively simple process that can be done in a few hours.

To winterize your sprinkler system, you will need to drain the water from the system and blow out any remaining water with compressed air. You can rent an air compressor from a home improvement store or hire a professional to winterize your sprinkler system for you.

To drain the water from your sprinkler system, locate the main water valve to the sprinkler system and turn it off. Then, open all of the sprinkler heads to allow the water to drain. Once the water has drained, close the sprinkler heads.

To blow out the remaining water from your sprinkler system, connect an air compressor to the sprinkler system's blow-out port. Turn on the air compressor and blow out the water until you no longer hear any water coming from the sprinkler heads.

Seal your windows and doors

Drafts around windows and doors can let in cold air in the winter and hot air in the summer, which can make your home uncomfortable and less energy-efficient. To seal your windows and doors, you can use caulk or weatherstripping in order to sure that there are no cold drafts coming into your home. Caulk is a sealant that is applied around the edges of windows and doors to seal out drafts. Weatherstripping is a material that is applied to the moving parts of windows and doors to create a tight seal. You can find most everything you need at the local hardware store!

We're not just here for the time of transaction!
We look forward to building long lasting friendships with our clients and hope they will call on us even after they're happy in their new homes. Are you looking for home in the mountains of Idaho? Maybe you need to sell? No matter what your real estate needs the agents at Garden Valley Properties are here to help!