Owning a Home - More than Just Finances
With changes in mortgage rates you might be wondering if it's still a good time to buy a home in Idaho. In short, if you don't want to read any further, the answer is YES. YES it is! While there are any number of financial benefits to owning a home like the ability to build equity, and the increased stability against future financial market changes, there is also another big part of owning a home that people don't talk about as much: how it makes you FEEL!

Now, we realize Valentine's Day is a long way away, so we won't get too gushy about things, but it is a very true fact that being a homeowner impacts your emotions in big ways - and that's a GOOD thing!

Owning a home and the responsibilities that come with it, while they can bring their own types of stress, overall will increase your sense of achievement! Ownership of a place, the making of it YOURS, is truly hard to explain until you've experienced it. Your new home is yours. It's your place and your space to make the way YOU want it.

It doesn't just stop when the honeymoon is over! Even if you've been in your home a long time, surveys show that even simple remodels or upgrades can renew and increase your satisfaction in your living space.

All of that may seem like a small thing, but truly the opportunities it opens are amazing! Once you've settled in you'll find room to grow, room to explore, and space to connect with others that you share the space with. And that doesn't just end at your front door! Living in a new place - maybe the beautiful mountains of Idaho! - will provide you will new opportunities to be part of a fresh community and through engaging with others, perhaps even rediscover parts of your self.

At Garden Valley Properties real estate isn't just about the transaction and the paperwork! We don't do things that way here. We take time and we care about those we help guide home. So, when it's time for you to find a new place - whether you need to buy or sell - we hope you will call on us!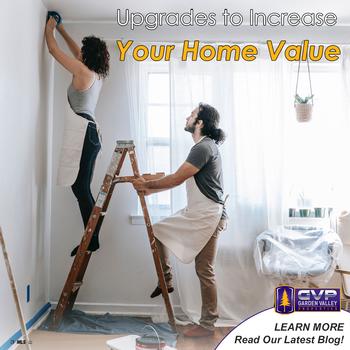 How to Enhance Your Home Resale Value
As a homeowner, it may seem to you that any improvements made to your home should increase its value, but as we've mentioned before not all home improvements are equal. So, should you be thinking about selling down the road it's a good idea to focus your energy and budget on improvements that will bring the most return on investment when it's time to move. We've put together some of the changes you can make to your home that are sure to improve the resale value, whether you're listing your home next week or next year!

Energy Efficient Features
Including energy saving features can not only improve your resale value but it can help you save on energy bills while you still live in your home - it's a win win all the way! Some of the easiest energy solutions include things like upgraded windows, better insulation, a whole home fan, or even solar thermal heating. Any of these will help keep you more comfortable and add some dollars to your selling price.

Update the Kitchen
It's the heart of a home! A lot of your real living takes place in the kitchen, and as such it can see a lot of wear and tear. Not to mention, home trends that seem all the rage now may not be so trending when it comes time to sell. So, consider ditching those fluorescent lights and wood grain cabinets for something more in style when selling time approaches.

Landscaping
Whether you own a sprawling estate or a modern Idaho tiny home, the front of your home is usually the first thing potential buyers will see. The curb appeal, as it's called in the real estate business. That's why it's always a good idea to spend a little budget outside, get the house soft washed, maybe repainted, or consider adding some new mulch to old flowerbeds. A little can go a long way with curb appeal!

Are you considering selling your home in Idaho?
Maybe you're ready to buy a home in the mountains instead? Either way, our team at Garden Valley Properties is ready to help you! Give a call or contact us via our site to get help right away!


Things to Get Ready Before Buying
In the old days of real estate, before automated underwriting, there was a catalogue of documents needed to verify the information on the loan application - just in case they were needed. These days the process has been greatly streamlined; it's more likely that your underwriter will only ask for certain documents they they know they actually need. Nonetheless, once you've found that perfect Idaho dream home it's a good time to go ahead and start getting all your paperwork together so that the move goes as smoothly as possible. To help with that we've put together this list of the most likely documents that you'll want to have on hand!

Paystubs and W2
These are almost guaranteed to be involved. Generally you will need a few of your most recent paystubs and the last two years W2's. Your paystubs are merely used to verify the income amounts stated on your application. Your paystubs should be computer generated, not handwritten.

Bank Statements
You'll want to have several of your most recent bank statements from the account associated with your down payment, closing costs, and other associated costs. Generally you will need at least two or three moths work of statements.

Credit Score
Lenders used to use the credit report to add up all the minimum required charges for all credit accounts. Today, it's mostly your credit scores themselves that are scrutinized. Most lending programs do have a minimum required score; you'll find that out from your provider.

Don't let questions about the home buying process keep you from finding your perfect place!
Garden Valley Properties is here to help! Contact us today to see how we can help.



The Big Moving Day! What to do?!
The process of moving is one of the last steps in your journey to your new home - and what a process it can be! You're literally taking everything you own and putting it in a new place, sometimes very far away from where it was, and unless you're planning on just leaving everything and starting from scratch they'll be preparations to make the transition go smoothly. We've put together some tips to help in your moving process so that you have just a little less to worry about...

Checklist
Lists can save your life. That may seem a little extreme, but since your home literally contains everything you own it's kind of not. One way to make sure you're packing everything and taking care of tasks is to make a moving checklist. Your moving checklist should include things like important dates to have services disconnected or transferred, a list of the larger important items that you'll be moving, as well as any additional notes regarding things you don't want to forget.

Hire a Mover
Unless you truly are young and spry don't kid yourself about how hard it is to physically move everything! Long gone are the days when a pizza and a sixpack with the friends would get your stuff moved - it's time to hire a pro. Even if you are physically able to do it, it's one more big (literal) pain in the back that you can avoid by hiring someone.

Consider Costs and Save Up
Whether you hire a moving company or not there will still be some extra costs involved in moving! Things like boxes, packing tape, disconnect and re-connect fees, as well as the potential for additional meals at restaurants before the kitchen gets put away, are all things that can add up quickly. It's good to start setting aside a little additional budget months before your move so that you will be ready, and if you end up with left over money you can always use it for a house warming party!

We want to get you to that big moving day!
The Idaho real estate market has cooled down a little in the last few weeks, but inventory is up and things are still moving. It's a great time to consider buying a home here in the mountains of Idaho and we would love to help make it happen. Talk to any of our great Garden Valley agents to get started!





Budget Friendly Curb Appeal Ideas
The real estate market in Idaho is still as hot as the weather! And with more inventory hitting the market lately, sellers will need to do everything they can to make sure their home is as appealing to potential buyers as possible. To help out we've put together a few cost-effective ideas to help you get your curb appeal in a good place to get your home SOLD!

Clean Up the Yard
It mostly just takes time and elbow grease, but it makes a huge difference in how your home is received! Tuck away any unused yard equipment, rake leaves, pull weeds, and keep the grass cut - these are all simple things that really help.

Light Up the Yard
A few dollars in solar lights can go a long way! Consider getting some accent lights to place along walkways, in between shrubbery and the house, and other key areas around the outside of your home. Not only does it give your home more of a "wow" factor but it helps it look great even at night.

Wash the Exterior
A good thorough soft-wash for your siding or exterior will help make your home look great! Dust and dirt can build up over the long Summer and by knocking down some of that grime and washing the windows your home is sure to sparkle.

You can do things like add potted plants to porch areas, give your front door a bold new coat of paint, or even upgrade your mailbox to add extra little touches to your home that will help it stand out from others! We hope these ideas will help you in your journey to sell your home - if you need more help we're always here to be of service.