Idaho Adventures with Kathy!
I recently took a trip to northern Idaho!

I love to travel the backroads and explore places I haven't been to in a while.
Leaving Garden valley I traveled to McCall where, as you can expect, business is doing quite well. Even though it was April and pre-tourist season, McCall was busy.

Dropping down Whitebird Hill, Grangeville showed many signs of growth since my last visit to the area. The least traveled, beautiful, path along the Clearwater River though Kooskia, Kamiak and St.Mary's was a real treat . Granted a lot of the tourist centric businesses are not fully opened yet, but some of the more remote communities still seem to be suffering from business slow downs. That said, there were signs of new construction everywhere. Some of the newer homes seemed out of place in their otherwise struggling communities. A luncheon stop at Orofino found a bustling community. Next you're there, make a stop at Augies for lunch or ice cream.

Arriving in Hayden, Boy was I surprised by the changes there. New construction everywhere! Traffic was very slow going and at some intersections difficult to navigate. Numerous overpasses were under construction in an effort to accommodate traffic patterns. A visit to Sandpoint and Coeur d'Alene was very busy will the parks full of visitors and the sidewalks busy with shoppers. On the way to Spokane there was new road construction along the way. Ramps to the freeway were backed up.

Although Washington restrictions are tighter, there was plenty of activity downtown! The parks were busy. Restaurants and shops I visited were all lively.

At Roosevelt lake I was not surprised to see lots being sold for a pretty penny and new construction, remodeling and upgrading evident everywhere.

Immediately after my return there was an article on the Wall Street Journal naming Coeur d' Alene the hottest emerging market in the US. The article claims a 47% increase in year over year home pricing with a 71% decrease in inventory. Spokane was listed as #5
At the same time an article in the Coeur d'Alene Press reported the city of Hayden, after annexing property in 2013 on the condition of a 4 home per acre density had agreed to change the zoning to 20 homes pe acre. This all, apparently occurred according to the article, at the end of the agenda for a city meeting with no public notice or input.

Growth can bring both good and bad! We should all be involved in helping our local government manage the growth. It's here to stay.
Paint Your Home to SELL!
It might seem like a little thing, but the colors found in your surroundings have a big impact on your state of mind. It should be no surprise then to find that the colors in your home can affect how it might sell on the market. A well-staged, nicely painted home invites the potential buyer to see themselves living there, and can help your home sell faster as well as for a better price. We've put together these tips on painting your home to help get it sold!
Ding Ding Ding
Living in a home you can become accustomed to the various small scratches and dings throughout your house. While it's not big deal, these little nicks can add up. A fresh coat of paint covers the scrapes and marks that come from daily life, making a home appear fresher and new.
Consistent but Different
It may be tempting to buy paint in bulk to save money, but having all of your rooms be exactly the same tone can be a bit boring. Studies have found that having rooms of varying colors but in complimentary tones works to add a wider range of enjoyment for the spaces in your house.
Some Tones Work Better in Some Rooms
Science shows that different colors tend to be largely preferred in specific rooms. Since color can set the mood this is no surprise! Blues are big this year! Consider relaxing blues for bathrooms, kitchen color trends vary but generally a lighter color is best; bedrooms frequently work well when done in richer, deep colors that invite relaxation. Most living rooms tend to go bland unfortunately, so consider using a light but warm palette for what is usually the largest room in the home.
Paint to Sell
Painting to sell isn't the same as painting for your own personal tastes. While you may love barn red or chartrues stripes they might not appeal to what could be a wide range of the buyers tastes and no one wants to think about having to repaint before they even move their furniture in.
There are tons of small details that go into selling a home quickly and for the best price!
We would love to speak with you more about your home or cabin if you're considering selling - it's a great time for it and we look forward to helping!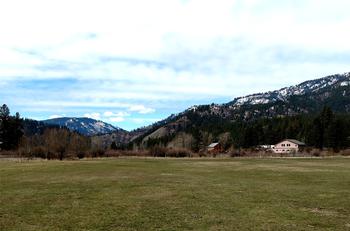 Welcome to the Mountain Life!
New to Garden Valley, Idaho? Listed below are words of advice from Locals on what to expect during the Summer months. If you have any questions, locals are always quick to help you out. If you search "Garden Valley Idaho Happenings" on Facebook, join the group and ask away!

- You'll appreciate all those trees and the shaded areas you currently have come summer. It gets hot here!

- Jump in the river to stay cool! Check out the North Fork Championship in June. Go rafting/kayaking!

- Start cutting wood now if you have a wood burning fireplace

- Make sure your clean up all pine needles

- Make time to attend the great plays at Starlight Mountain Theatre! They're only open in the summer!

- If someone flashed their headlights at you it means there is wildlife in the road.

- If you need firewood, start buying it ASAP - don't wait until August.

- Set up your plow guy before the summer is over. Get references from anyone local, especially neighbors that are willing to help.

- Tomatoes don't go in the ground until the snow is off Garden Mountain- sometimes we don't get much of a crop because the cold stays around too long. -- ----- Always wave back when driving down the road--we take offense if you don't!

- Payette Forward thrift store is the best deal in town. Every penny goes back into the community

- Always get your year's subscription to both the ambulance ride and the life flight ride

- When outside, be aware of your surroundings. Lots of critters waking up and wandering around looking for a meal. Don't be a meal!

- Cut all dead trees cut all branches off at least 6feet high from ground

- Locals just stay home on holiday weekends. It's not worth the hassle.

- Long wait times at 17/55 on a Sunday! Best not to travel on that day.

- Don't mind a dusty, dirty car!

- Allow extra time on 17/55, RV's go slower!

- Local dogs may wander around. It's ok for the most part.

- If you don't have air conditioning (not really needed in many places with trees) Open up your windows in the evenings. We put box fans in the windows to blow the cool air IN. Sometimes the house gets down to low 60s by morning. Then shut up the house and put shades/blinds on the sunny side of the house. - - -- Keep doors closed as much as possible.

- Look for problem trees that look diseased or are leaning towards structures and have them professionally removed now instead of having them come through your roof with a snow load.

- Prepare for power outages during storms. Keep your devices charged up. Have enough water during summer time.

- If you shop at the market Thursday it's well stocked ( and senior discount day).

- Order Refill scripts at the pharmacy a few days in advance, they don't have everything in stock all the time.

We want you to feel at home here in the mountains of Idaho!
If you have any questions about the area, or relocating, get in touch!



Spring Into Saving on Your Bills!
Spring time is here and Summer is quickly on the way here in Garden Valley Idaho and while you might not be fighting over the thermostat yet it won't be long before fans and air conditioners are running and that means higher power bills. Thankfully there are a few things you can do to help cut your power cuts during the times of the year when they tend to be highest - take a look at these tips!

Change Light Bulbs
Believe it or not by just changing to new more energy efficient light bulbs in your home you could cut almost $100 per year off your energy use.

Install Shade
The sun can really heat up your home! Consider installing blinds or curtains on sunny sides of the house to limit heat absorption. You may even think about planting some shade trees on the side of the house that gets the most light to provide shade for that whole side of the home.

Service Your AC
If you have a central air conditioner get it serviced each season and make sure to keep the filters clean. This can not only help your HVAC system work better but also can save on how much power it needs to run.

Open Some Windows
If you don't have central air the best thing can be to open some windows! Create a cross breeze through the house to keep things cool and consider adding a box fan to the scenario for extra comfort.

Get Grillin'!
On the hottest days consider cooking dinner outside! Nobody needs an excuse to grill, but here's a good one! Keeping the heat of cooking outside rather than in the kitchen heating up your home is a good way to keep the house temps low.


Give Your Deck A Facelift!
Hanging out with your family or hosting friends on your old, dingy deck is not very appealing. Lucky for you, refreshing it doesn't have to be difficult or expensive. Try your hand at the makeover ideas below!

Restore your decking. Depending on the shape it's in, sometimes all your deck needs is a little love. If it's still fairly new, your deck might just need a deep cleaning and a new coat of sealant. There is a multitude of deck finishing and cleaning solutions on the market to choose from to achieve this. However, if it's more worn down, the rejuvenation process may be a bit longer, including searching for larger repairs, tightening any hardware, giving it a good cleaning, applying a stain, sealant, and paint, and more.

Add lighting. Ambient lighting can completely transform your outside space into a relaxing, cozy oasis. Consider adding solar lights that don't require a plugin or battery replacement. The lights turn on automatically when the sun sets, making your deck come alive. You can also consider paper lanterns, rope lights, mason jar lamps, or small twinkle lights, depending on the style and mood you'd like to set.

Build a privacy screen. Privacy screens come in all styles, shapes, and sizes. Consider purchasing and installing bamboo fencing or lattice panels for a quick and easy solution. Or, if you are feeling a little more adventurous, you can build a wooden frame and grow climbing plants or vines or stretch outdoor fabric in between. Whichever route you end up choosing, make sure you get the most out of your efforts by evaluating all lines sight before building.

Home Equity. Getting a home equity line of credit allows you to borrow money against the value of your home. You receive usually up to 80 percent of your home's value, minus the amount of your loan.

Retirement Funds. Homeowners can consider pulling money from a 401K or IRA account, even though they aren't specifically meant to cover a home renovation. This option might incur additional penalties or tax payments, but maybe worth it when making improvements that will benefit them financially in the long run.

Making little changes can have a big impact!
Even just putting in a small bit of time improving your home can make a big impact on its overall value. Want to get more out of your home or cabin when it comes time to sell? We can help!