Garden Valley Properties Receives National Recognition
PRESS RELEASE - Garden Valley Idaho

Garden Valley Properties is proud to announce our agents, Kathy Vaughan, Julie Leslie, Toni Palmiotto and Lisa Willey have been awarded the Accredited Buyer's Representation (ABR®) designation by the Real Estate Buyer's Agent Council (REBAC) of the NATIONAL ASSOCIATION OF REALTORS® (NAR)!

These four ladies join more than 27,000 real estate professionals in North America who have earned the ABR® designation. All were required to successfully complete a comprehensive course in buyer representation and an elective course focusing on a buyer representation specialty, both in addition to submitting documentation verifying professional experience.

REBAC, founded in 1988, is the world's largest association of real estate professionals focused specifically on representing the real estate buyer. There are more than 40,000 active members of the organization world-wide. THE NATIONAL ASSOCIATION OF REALTORS®, "The Voice for Real Estate," is the world's largest professional association, representing over 1.4 million members involved in all aspects of the real estate industry.

Find us at the happy yellow door downtown Crouch, visit our website gardenvalleyproperties.com or call the office 208.462.4620.
Should You Remodel Before You Sell?
There are so many things to worry about when the time comes to sell your home! In the end you just want to get it done and over so you can move on, but you don't want to end up losing out due to small details that could drive away buyers or lower your selling price. You may even be considering doing some updates to your home to try and increase its value, but should you do updates before you sell your home? Some say it could be risky, but here's the facts!

The New Owners Want to Do It
No. They don't. Home channels like HGTV have created this false idea that the new owners of your home will want to jump right in and do their own updates, and this just isn't true. Certainly, over time the new owners may make changes to suit their tastes but the last thing anyone wants to do after a move is start a remodel.

It Takes Too Much Time
Major remodels, like completely redoing a bathroom or kitchen may take a good chunk of time but there are plenty of small updates you can do to your home to increase its selling value that won't take long. Small changes like paint and fixtures can make a big difference on closing day.

Updates Don't Pay
Not all upgrades are created equal; some definitely pay off more than others, but any time and effort you put into making your home ready to sell will pay off - if not in dollars, then in time on market. If your budget is tight, focus on the rooms that have the biggest remake pay off - bathrooms and kitchens.

If you are in an older home, or haven't done any updates and upgrades in a while doing so before you consider selling might be a good idea! We would love to speak more with you about your home selling plans and how we can help make them happen!



Does a smaller home make sense?
You don't need to have a major life event happen to consider moving into a smaller home. While some unforeseen turn on the road of life is often the reason for relocating, it's perfectly natural to find your needs changing the longer you live in a home; the things that were must have features may end up being just more than you want to handle. So, for many the move into a smaller home makes sense, but how do you know it might be something to think about?

You Find Something Better
Well, maybe not better but better for you and where you are now in your life. Real estate inventory is low in Idaho right now but the market may surprise you. If you've been looking, or the perfect place just pops out of the blue, and you find yourself seeing greener grass it could be time to consider a move.

Just Right Is Now Too Much
Particularly if you have a home with a larger property attached you may find that the commitment to keep up the land is just more than you can - or want - to handle every year. If the pole barn and big fields that were so much a part of the dream have become a nightmare, it may be time to start thinking about a change.

It Makes More than Sense
It could make dollars, and that might make the time right. Even if you don't have a lot of equity in your home by selling and downsizing you stand to pocket a substantial amount of money. Money that can furnish your new home, money that can afford you a more comfortable retirement, or even to enjoy travel more. With the Idaho real estate market moving as fast as it is now, it may be the perfect time to consider selling and downsizing.

Every situation is different; every dreamer dreams a different dream! We here at Garden Valley Properties look forward to helping you make your dream home something you can wake up to no matter what size it is!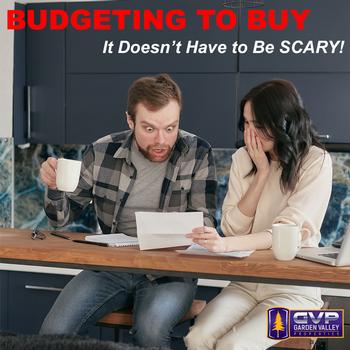 Make a Home Buying Budget that Works!
Buying a home can seem a bit intimidating! And it's no wonder - the purchase of a home or property is one of the biggest financial investments you can make, so of course there's going to be a little anxiousness. But fact is, there are some things you can plan on long before you even begin looking for the perfect Idaho mountain getaway that will make the process much easier when it comes time to buy. Foremost, don't think you have to have ALL the answers - there are trusted financial and real estate professionals that will make sure you don't go it alone! Saving you pennies and dimes is the biggest part and we've put together three of the big costs you will need to be ready for so there's no surprises along the way.

Down Payment
Other than the cost of the home itself, your down payment is likely to be one of your largest expenses. While many people save up to 20% of their home cost to put as a down payment don't get stuck in thinking that big dollar amount is a stop sign on your road to home. It is the best way to go, but you can often put down much less or take advantage of special programs for buyers to help.

Earnest Money
Ernest?! Who is that?! Earnest money isn't necessarily a required cost, but in today's competitive market it is a good idea to have on hand. Essentially earnest money is a little bit like a credit you put on the house to show the owner you are serious and can help you stand out if things come down to a bidding war between buyers.

Closing Costs
Closing costs are basically the upfront fees involved in completing the mortgage process. This generally includes a loan origination fee, title examination and insurance, survey, attorney's fee, and prepaid items, such as escrow deposits for taxes and insurance. A good rule here is planning on 2-5% of the homes overall price.

While buying a home can seem daunting it's also one of the most rewarding accomplishments in the investing of our hard earned dollars. There's no better place to spend your money than in the place that you'll call home! Fortunately, it's easier to find the perfect place than you might think - and we can help! Talk to our agents today to find out how we can help!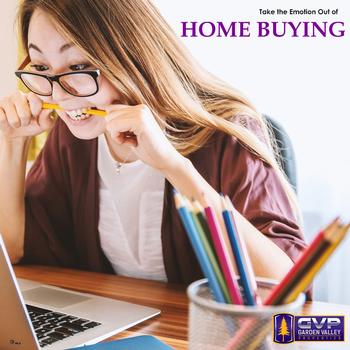 Take the Emotion Out of Home Buying
Trying to find a new home can be one of the most emotionally taxing things you might do. There are highs, there are lows, there are moments of just not knowing, and that can lead to even more stress. But the fact that you have emotions tied to where you will be making your life is good because it shows you care and are invested in your home. Any number of emotions are normal during the home buying process, but high emotions can lead to hasty mistakes, so it's important to meter your passion with good common sense. We've put together some tips to help you take some of the emotion out of buying a home in Idaho…

Be Strategic
Before you even begin looking for your new place, start making notes and mapping things out. Literally! A big part of where you live is WHERE you live and getting familiar with the lay of the land, local amenities, and traveling distances is one way to keep some very important factors in mind.

Set Boundaries
It can be hard to limit yourself but setting realistic boundaries can help you avoid disappointment down the road. Realize that you may not get every single thing you want in your perfect dream home but also know what things you can't compromise on. Setting limits on budget, area, and other factors can also help you streamline your searching as you won't spend time looking at homes that might not be available for your needs.

Approach Like An Investor
Remove your personal need from the real estate transaction. Step out of looking at the home based on the needs it will fulfill for your family and consider how the property may appreciate - or depreciate - over time as well as how desirable features in the home may be with changing trends. This will help you not only remain less emotional but it can also help you increase your return when the time to sell comes.

Work with an Idaho Real Estate Professional
How can you not?! Buying a home is one of the biggest decisions you will make in your life, so it's certainly not something you want to undertake alone! Having an experienced real estate agent who is familiar with the Idaho real estate market will prove invaluable whether you are buying or selling. We listed it last here, but in many cases finding a great agent is the best place to START!