Home Renovation Mistakes to Avoid!
So, Summer changed your plans and instead of putting your home for sale on the market in Idaho you've got other plans that won't wait. Might be work, might be family - who knows - life is what is happening while you're making other plans as the saying goes. Regardless, you're looking at being in your current home for a little while longer and have decided to put that extra time to good use by doing some renovations - but you've heard that some upgrades can actually harm the value of your house. Not to worry, Garden Valley Properties is here with some tips to help you avoid costly renovation mistakes!

Underestimating Your Budget
You're bound to have watched a few of those fix it and flip it shows on TV by now; it's also no doubt that you've noticed how often things run over budget. Well, that's actually a little real reality in the reality shows - even simple renovations can go over budget. A good way to handle this is to plan plan plan, get solid quotes whenever possible, and set aside a little extra just in case.

Overestimating Your Skill
Hey! I know how to use a saw! How hard could it be?!
Uh, yeah, stop right there! THIS is what we're talking about. In many cases, yes, you may have the needed skills to install new doors, or paint the walls, or even more complicated renovations. That said, it's easy to get in over your head and the professionals you have to end up hiring anyway will likely charge to fix your mistakes. Another important thing to consider is that some renovations to your home may require permits, licenses or special approval to be done, so consider hiring a pro.

Just Going For It!
Swing that hammer with wild abandon! Knock down those walls! Tear out that floor!
Whoooaaa nelly! Before you start making radical changes, be sure to sit down and make a plan. Consider how the changes you want to make may change the value of your home when it does come time to sell, as well as what the costs and timelines for these changes will be.

Not Asking for Help
Renovating even a single room of your home can be a real challenge depending on what you want to do. If it's something you decide to take on your own, don't let it get to the point where it's completely overwhelming - if you get stuck, ask for help! Even if you ask for help before you start, talk to your friends and neighbors who have done similar projects and see how it went.

More than just being there during the purchase or sale of your home in Idaho, Garden Valley Properties wants to be part of you being happy in your home while you're living in it too! If you have questions about renovating, or about real estate, don't hesitate to get in touch!
How Owning a Home Impacts You!
As we draw National Homeownership Month to a close we thought it would be nice to talk about how owning a home impacts you. A home is more than just a space you occupy - it gives you a place to BE. So, if you're thinking about buying a home this year but aren't sure, here are some benefits to owning your own place!

Express Yourself!
Because your new home is 100% yours in ways that previous accommodations through renting or leasing were not, it allows you the freedom to express yourself! We're not telling you green shag carpet goes with those magenta drapes, but no one is telling you not to make your home look how you want it to!

Stability
With rising rent rates across the country many people face uncertain times. Owning your home is one way to protect yourself against large market fluctuations as well as economic trends. A home of your own provides a solace during difficult times.

Connect to Your Community
Owning a home in a town, city, or village makes your part of the local flavor! You might be surprised to find yourself taking an interest in civic activities and finding new opportunities to enhance your joy of living just by embracing your new place.

Building Your Wealth
It's a fact, owning real estate is still one of the best ways to grow long term wealth. Wealth that you can use to better your life and even pass on to future generations. More than just money in the bank through equity, owning a home increases your overall net worth more than 40 times that of a renter.

The market is as hot as July in Idaho! You may not be sure if it's time to buy - or time to sell! The good news is, Garden Valley Properties is here to help you make your next move the right one. Get in touch with our team of Idaho mountain real estate experts to find out all we provide!
Consumers Say It's Time to Sell - But WHY?
If you've been thinking about selling your home in Idaho but have been putting it off, chances are it's because you're just not sure if the time is right. Well, according to recent market data that sweet spot for selling may be NOW. The latest Home Purchase Sentiment Index (HPSI) by Fannie Mae finds that 76% of consumers believe now is the right time to make the move - in fact, it's likely an even better time to sell than it was before the pandemic. But WHY?

It all comes down to the rules of supply and demand. Idaho real estate inventory is still extremely low; that makes the homes on the market in higher demand. Generally speaking as the year goes on more and more homes hit the market, making for more competition, and so it's often true that listing in Spring and Summer are the optimal seasons.

In addition, there are still more buyers looking for homes than homes being listed, meaning that the buyers are very motivated to find and close on a house quickly to keep from potentially losing it to another party.

But the market is changing! As the economy faces unique challenges many people are puting a hold on their spending as cost of living expenses rise. Interest rates are also looking to go up over the next year, so chances are this may be the best time to sell OR buy.

Are you unsure if it's time?
We would love to talk to you about your current situation, your needs for a new place, or how we can help you prepare your current home to sell on the market. Get in touch today to find out more about all we can do to make your next move EASY!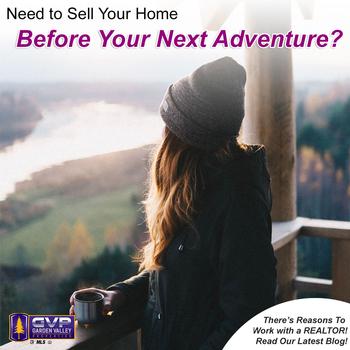 What Does a Real Estate Agent Do for Sellers?
How hard could selling a house be?! You tell people about it, and if they're interested they buy it, right? Well...not quite. You see, there's a lot more that goes into selling a home - and getting the best price! - than just putting a sign up in the yard. What's more, beyond just getting a better price for your home, there are some very good reasons to talk with a licensed real estate agent before you try FSBO.

The Pricing
Let's get that big item out of the way first. Your home is your castle; you likely have a lot of emotion invested in it. This can make things like accurate pricing for the market difficult. What's more, the real estate market in Idaho is always changing and it literally pays to know how to price your home competitively to other properties currently available.

Getting Things Ready
More than just listing the home on the Multiple Listing Service, your agent can help you spot problem areas in the home that you'll want to take care of before going to market. An experienced agent will know how to help you prepare your home to be showcased in its very best light and sell quickly.

Marketing
Unless you really are Instagram famous it's likely you will need some help letting people know your home is for sale. Even in a fast moving real estate market like we have here in the Treasure Valley no home sells itself. Your agent will be able to list your home on various channels that may not be accessible to you to get the most eyes on your property.

The Paperwork
Loans, closings, pre-screening potential buyers, and signing signing signing! Some will argue that having someone to help with these things is reason enough to working a qualified real estate agent all on its own. And they are right! Your realtor will be able to help with the mountains of forms, the legal stuff, and even helping make sure you find the RIGHT buyer for your home.

Are you thinking of selling?
Not quite sure if it's time? Don't know what the market is doing? WE CAN HELP!
Our team of Idaho mountain real estate professionals knows the area and the market like few others - get in touch today to find out all we can do to help you get that home SOLD!
Julie Leslie Earns the Coveted Associate Broker License
PRESS RELEASE May 2022 - GARDEN VALLEY, IDAHO

May 23rd was another Big Day in the life of Garden Valley Properties! Julie Leslie, agent and Co-owner, of Garden Valley properties announced completion of her requirements to earn the Associate Broker license in the state of Idaho.

The requirement to earn this coveted classification include 90 hours of training, 2 years sale experience and passing the rigorous state and national examination. It's a tough road that few agents attempt. Of over 9000 agents in the Intermountain (Southwest Idaho) MLS there are only 365 associate brokers.

In 2021 Julie sold over 9 million dollars in real estate in West Boise County, making her one of the top agents in the county and in the top 15% of the entire MLS!

Julie received her agent license in 2004. When asked what she loved about the business Julie said "As someone that loves learning, my job provides a variety of things to learn. Market trends, new technologies, and the complex transactions that arise. I also value the connections I make during the process. For me, Real Estate is more than a transaction, it's helping a lifelong friend."

James Jardine, the designated Broker and chief of Garden Valley Properties said of Julie "Few realtors in Idaho strive to achieve Broker status. Julie Leslie's successful receipt of this highest level of licensure by Idaho, results from advanced education and experience as a real estate professional. Garden Valley Properties' Brokers, Agents, and Staff congratulate her on gaining the standard."

As for the future, the well-respected real estate company hopes to continue on its mission to serve the community by offering a high quality service, providing market information and participating in the needs of the community.

Congratulations Julie Leslie for a job well done!