The Big Moving Day! What to do?!
The process of moving is one of the last steps in your journey to your new home - and what a process it can be! You're literally taking everything you own and putting it in a new place, sometimes very far away from where it was, and unless you're planning on just leaving everything and starting from scratch they'll be preparations to make the transition go smoothly. We've put together some tips to help in your moving process so that you have just a little less to worry about...

Checklist
Lists can save your life. That may seem a little extreme, but since your home literally contains everything you own it's kind of not. One way to make sure you're packing everything and taking care of tasks is to make a moving checklist. Your moving checklist should include things like important dates to have services disconnected or transferred, a list of the larger important items that you'll be moving, as well as any additional notes regarding things you don't want to forget.

Hire a Mover
Unless you truly are young and spry don't kid yourself about how hard it is to physically move everything! Long gone are the days when a pizza and a sixpack with the friends would get your stuff moved - it's time to hire a pro. Even if you are physically able to do it, it's one more big (literal) pain in the back that you can avoid by hiring someone.

Consider Costs and Save Up
Whether you hire a moving company or not there will still be some extra costs involved in moving! Things like boxes, packing tape, disconnect and re-connect fees, as well as the potential for additional meals at restaurants before the kitchen gets put away, are all things that can add up quickly. It's good to start setting aside a little additional budget months before your move so that you will be ready, and if you end up with left over money you can always use it for a house warming party!

We want to get you to that big moving day!
The Idaho real estate market has cooled down a little in the last few weeks, but inventory is up and things are still moving. It's a great time to consider buying a home here in the mountains of Idaho and we would love to help make it happen. Talk to any of our great Garden Valley agents to get started!





Budget Friendly Curb Appeal Ideas
The real estate market in Idaho is still as hot as the weather! And with more inventory hitting the market lately, sellers will need to do everything they can to make sure their home is as appealing to potential buyers as possible. To help out we've put together a few cost-effective ideas to help you get your curb appeal in a good place to get your home SOLD!

Clean Up the Yard
It mostly just takes time and elbow grease, but it makes a huge difference in how your home is received! Tuck away any unused yard equipment, rake leaves, pull weeds, and keep the grass cut - these are all simple things that really help.

Light Up the Yard
A few dollars in solar lights can go a long way! Consider getting some accent lights to place along walkways, in between shrubbery and the house, and other key areas around the outside of your home. Not only does it give your home more of a "wow" factor but it helps it look great even at night.

Wash the Exterior
A good thorough soft-wash for your siding or exterior will help make your home look great! Dust and dirt can build up over the long Summer and by knocking down some of that grime and washing the windows your home is sure to sparkle.

You can do things like add potted plants to porch areas, give your front door a bold new coat of paint, or even upgrade your mailbox to add extra little touches to your home that will help it stand out from others! We hope these ideas will help you in your journey to sell your home - if you need more help we're always here to be of service.


Tips for Idaho Home Buyers
While it's been an undeniable sellers market for the last few years in Idaho real estate, things have begun to slowly take a turn, and with the return of more inventory to the market it's now a good time for buyers to start thinking about making the market their own. So, what do you do if you've been thinking about buying a home, but still aren't sure where to start - or even if the time is right? Don't Panic! Your team of Idaho mountain real estate professionals is here to help you find your way to H-O-M-E!

Understand Mortgage Rates
Rates have increased significantly this year, and recently they've been fluctuating quite a bit. How mortgage rates change can impact your buying power, so knowing where they are and how much it might effect you is important. A change in the percentages can determine your borrowing power as well as what your mortgage cost will be down the road.

Start Looking
It never hurts to start looking for what you might want NOW. It might not be on the market yet, but in the looking we often learn about what it is we really want - and what we don't. Looking at the available homes also can help you see what prices are doing, as well as what home features you'll want to include in your new place.

Look at Finances
It's a good idea to start looking at your financials long before you start your home search. This includes taking a look at your savings, debt to income ratio, as well as considering paying down any outstanding debts. It's a good idea to talk with a mortgage professional or your real estate agent to find out which numbers will be the most important.

Work with an Experienced Realtor
Save time, save stress, save money! These are all things you want to do - and working with a qualified Garden Valley Realtor is a great place to start! We're familiar with the market and the area, and can help you at every step of the way. A good agent will not only help in your search for the perfect place but they'll know how to get all the i's dotted and t's crossed when the time for paperwork comes.

Home doesn't have to be hard to find - just start right here!
We look forward to hearing from you about your real estate needs; no matter if you're looking to buy or sell we can help!


Is NOW the Time to Buy?
Everyone is talking about a real estate bubble in Idaho, and are quick to call it a "sellers market", but does that mean it's a bad time to buy a home? We don't think so! There are a number of good reasons to consider buying a home this Summer, let's take a look at just a few of the big reasons why.

There Are More Homes
Inventory has been low over the last year or so, but we're seeing those numbers turn around - and that means power for the buyers! It's a good time to get in and start finding properties before the market gets oversaturated, or the home you want is already sold.
Homeownership Provides Stability
With inflation at an all time high and the costs of living climbing, owning a home is one way to help lock in one of your highest recurring monthly expenses. While your mortgage can still fluctate with the economy you won't have to worry as much about huge jumps in costs. Owning a home also allows you to build equity, providing a means to grow your overall wealth over time.

Buying May Be More Affordable
While up front costs may be more, your payments month to month may be more affordable than renting a home. In many cases not only will owning a home save you money versus renting, it also generally provides more room for the cost.

You Can Make It Truly Yours
No more asking permission, no more dealing with features you don't like. You want a different color in the den? You get a different color! You want new cabinets? You can have new cabinets! When you own your home you don't have to get permission from the landlord to make your home look the way you want.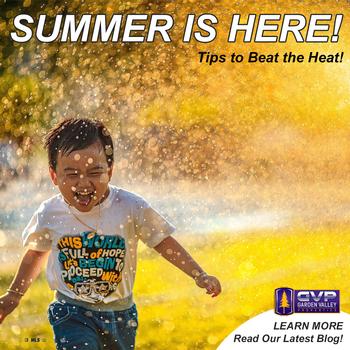 Tips to Beat the Idaho Summer Heat
It's HOT! Summer is taking it's time strolling through Idaho and the temperatures are up. While heat stroke and heat exhaustion are very real dangers everyone should be aware of, there's no reason why you can't still enjoy the long days of Summer with a little creative planning. We know how fun this time of year is, so we've put together some helpful tips to keep you cool!

Get Out Early - Or Go Out Late
The best time to enjoy a little coolness is the early morning! Not everyone likes getting up with the chickens, but it guarantees that you will have time to be outside before it gets too hot. Fortunately, since the days are long you can also opt to go out late in the evening depending on your chosen activities.

Go Jump in the River!
Nothing personal, but it's great advice! There's nothing like jumping in the rushing water to cool off quick. Even in high Summer the mountain rivers stay nice and cold, so don't be bashful about taking a dip.

Bring Your Own Pool Party!
We love this idea! Get your friends to all bring their own "warshing tubs" or kiddie pools and set them out on the lawn for a BBQ! It's a great way to stay nice and chill while you chill.


Head For the Hills!
We feel sorry for all the folks living down in the valley surrounded by all the steaming hot concrete! Getting up into the hills is almost guaranteed to offer slightly cooler temperatures as well as some much needed forest shade.

Don't let the heat ruin your Summer! There's till plenty of time to get out and enjoy the outdoors, even when it's hot. We would love the opportunity to show you why we love calling Garden Valley home (and know you will too!), so give us a call!