Get Ready to Buy!
If you're looking into buying a new home this year there's no need to wait until spring to start getting ready. That doesn't just mean selling your current home, or researching where the nearest coffee shop will be - although that IS important! There are always plenty of things you can do to prepare for buying a new home, and we've put together just a few of them here to help you get started.

Start Saving
It's never too early to start saving! There are some larger costs of buying a new home like closing costs, by saving early you'll be well prepared for smaller expenditures like movers, and reconnecting services.

Find a Realtor
It never hurts to look at homes on your own and to get familiar with where you want to live but you don't want to have to rush when the time comes to make that move. Your chosen Realtor will be your best ally throughout the real estate process, so it's important to not only find one who is qualified but who also matches your specific needs. Take a look at our team of Garden Valley real estate agents for a great selection!

Work on Your Credit
Your credit score impacts your future home loan. Consider looking into credit monitoring in order to track your credit and work on items to improve your score. Keep track of your spending and consider foregoing large expenditures as the time leading up to your move gets closer.

Get Pre-Qualified
It's never too early to start working with your chosen lender. Haven't chosen one? It's a great time to find one! By getting pre-approved you'll have good insight into your potential buying strength.

No matter what stage you find yourself in when it comes of buying a home in Idaho, we can help! Contact your team at Garden Valley Properties to talk with us more about your dreams and how we can make them come true.






Make Your Home Hygge!
It sounds sort of like the noise you make when you hiccup: hygge. While it may make a silly sound it's actually serious stuff for self care! Hygge is a Danish word that essentially translates as "a quality of coziness and comfort that engenders a feeling of contentment" - all very important concepts in Dane society. One might most simply think of it as anything that makes you feel warm and at home.

And who doesn't love the feeling of a content home? It's no wonder this Winter that the idea of hygge is really making a big showing! And it's not just about how you might decorate, it's also some of the things you do in your home as well. So how can you bring a little bit of that feeling into your home? Put on your biggest soft sweater and take a look at these ideas...

First, make your home as cozy as possible. Maybe start with one corner of your room by creating a nestling nook. Make things as soft and comfortable as possible with a place to sit, think throw pillows and plush blankets, and maybe include a place to set your beverage or book. Wrap yourself in the softest fabrics head to toe!

Unplug from electronics. It's easier said than done, especially as more and more of us are working online, but technology can really interrupt your ability to relax. Possible exceptions may be a way to play music to help create the mood.

Play a board game or have an indoor picnic. Sometimes getting back to the simple things is all it takes. And often just changing the scene of things can change a mundane meal into something to remember.

Good food is almost an essential. Many Danish folk will tell you that their level of cultural satisfaction is directly related to the availability of delicious meats, cakes, and coffee - but it's more than just having those things, it's taking the time to thoroughly savor them. Take the time to bake some muffins, or share a old family recipe.

There are any number of ways to make your home more hygge! During these colder months when we're all inside and together more it's a great time to do what we can to be as comfortable as possible.
Tips to Get Your Home Ready to Sell!
When looking at homes, buyers generally keep an eye out for red flags on big ticket items like problems with the roof or HVAC, but one of the bigger things they also consider is how move-in ready their new home might be. While you may not be able to put in a new heating system or redo the roof there are plenty of things you can do to boost the resale value of your home without spending a fortune. To help you get started, we've put together some ideas to help boost your home value before the sale!

Brighten the Kitchen
The kitchen is the heart of the home! You can impact the feel of the whole house by changing things in the kitchen. White is a popular color for kitchens as it helps keep things looking clean, but it doesn't have to be stark white which can make things feel cold. Consider bright, clean palettes that make you think FRESH!

Replace Dated Cabinets and Counters
Old appliances and countertops can be an almost instant turn off to potential buyers because they see it at something they will have to soon replace. Painting the cabinets, or replacing them is always a good place to start. A kitchen remodel may be one of the higher cost updates you can invest in, but you'll more than get your mileage out of it.

Fresh Paint
Inside or outside it's hard to go wrong with a new coat of paint! You can really change the entire look of your home very cost effectively, whether it be new colors in the rooms or just a splash of vibrant hues on the front door. Look through currently color trends to get good ideas and let your imagination run wild.

Hire a Professional Cleaner
You know your home inside and out, no doubt, but that can sometimes make deep cleaning even more difficult. Fresh eyes see grime you've been ignoring for months and a professional cleaning and make your home look like new! A professional cleaner will be able to give attention to all the tiny details like baseboards and neglected corners that you may have missed.

We hope these tips can help you get your home better prepared for the Idaho real estate market! We're always glad to talk and offer ideas on how you can get the most for your home - give a call to 208-462-4620 today!




Decorate Your Home to Sell this Fall!
While most people think of Spring as the time for cleaning and doing upgrades, many don't realize that Fall is the ideal time to spruce up your home - especially if you are thinking of selling! Fact is, if you are considering even waiting to sell in Spring time right now is the time to be getting things in order. You can already start looking up info on the new area you will be relocating to, talking to lenders and realtors in the area, and doing some general planning for making your move. But did you know there are some things you can start doing around the house to get it ready to sell too? It's true! Here are just a few ideas...
Take a look at the yard
While things are dying down it's a good time to look at the yard and consider taking out problem plants since they will be getting ready to go dormant. It's a good idea to make the rounds, take care of problem areas like limbs that might fall over Winter and other items to batten down the hatches for your own comfort during the cold months.

Paint the Door
It seems like a small thing but the color of your front door can make a difference! It's a great way to add a pop of color to your curb appeal. Beyond that look at the area around your front door and consider adding some lighting or other seasonal decorations to make it feel more welcoming.

Make it Cozy
You've likely experienced it in car dealerships and not even realized it. The smell of fresh baked cookies. It's something they sometimes do to entice the buyers in a subconscious way, and it can work! If you have potential buyers walking through consider baking some cookies that morning, or putting on a nice scent warmer to add to the welcoming feeling.

If you've been thinking about selling your home in Idaho but aren't sure if the time is right we would love to talk! There are any number of reasons why Winter makes a great time to move or just list your home so you'll be on the way come Spring. Call 208-462-4620 to chat today!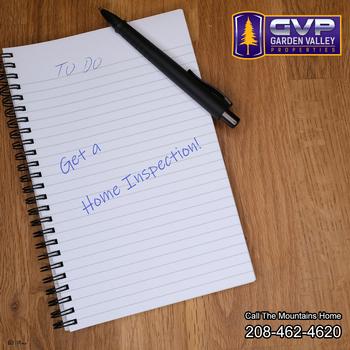 Do I Need a Home Inspection?
You've searched and searched and found just the right home for you! But this isn't the end of your journey, although you are almost there.
One of the next, most important steps, before the paperwork goes through is your home inspection. Unfortunately, with a the real estate market in Idaho being so hot, many buyers are forgoing home inspections. While some might say this can provide for a timing advantage on closing on the property, skipping the home inspection is not the best move as it can reveal major hazards within your new home.

But, do I NEED one?
Maybe, maybe not, but it's still probably a good idea. While most newer homes especially won't have any problems, especially if you are buying an older home there may be some problem areas to address. If there are major issues in the home it can cost thousands of dollars down the road - why take that chance when you can become aware of them prior to closing. The contingency put in place by your realtor is used in case the home inspection reveals issues, leaving the you (the buyer) the chance to back out within an allotted time frame or to renegotiate an offer. Having the inspection done can save you money on the closing as well as keep you from having more costs later.

What does the home inspection look at?
Your realtor should be able to recommend a provider of quality home inspectors in your area; a thorough home inspection will reveal a lot about your property even if there are no real problems found. Typically, depending on the size of the home, an inspection will take just 2-3 hours. While services vary, your home inspector will generally look at:

• Roofing
• Attics and basements
• Structural components
• HVAC systems
• Windows and doors
• Foundation
• Insulation
• Electrical systems
• Interior plumbing

Purchasing a home is one of the largest financial decisions that you will make in your lifetime. So, having a full picture of the house prior to closing on your new home can help make sure you can be confident in the property you will own without worry.