Does a smaller home make sense?
You don't need to have a major life event happen to consider moving into a smaller home. While some unforeseen turn on the road of life is often the reason for relocating, it's perfectly natural to find your needs changing the longer you live in a home; the things that were must have features may end up being just more than you want to handle. So, for many the move into a smaller home makes sense, but how do you know it might be something to think about?

You Find Something Better
Well, maybe not better but better for you and where you are now in your life. Real estate inventory is low in Idaho right now but the market may surprise you. If you've been looking, or the perfect place just pops out of the blue, and you find yourself seeing greener grass it could be time to consider a move.

Just Right Is Now Too Much
Particularly if you have a home with a larger property attached you may find that the commitment to keep up the land is just more than you can - or want - to handle every year. If the pole barn and big fields that were so much a part of the dream have become a nightmare, it may be time to start thinking about a change.

It Makes More than Sense
It could make dollars, and that might make the time right. Even if you don't have a lot of equity in your home by selling and downsizing you stand to pocket a substantial amount of money. Money that can furnish your new home, money that can afford you a more comfortable retirement, or even to enjoy travel more. With the Idaho real estate market moving as fast as it is now, it may be the perfect time to consider selling and downsizing.

Every situation is different; every dreamer dreams a different dream! We here at Garden Valley Properties look forward to helping you make your dream home something you can wake up to no matter what size it is!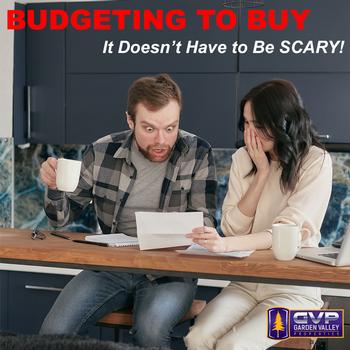 Make a Home Buying Budget that Works!
Buying a home can seem a bit intimidating! And it's no wonder - the purchase of a home or property is one of the biggest financial investments you can make, so of course there's going to be a little anxiousness. But fact is, there are some things you can plan on long before you even begin looking for the perfect Idaho mountain getaway that will make the process much easier when it comes time to buy. Foremost, don't think you have to have ALL the answers - there are trusted financial and real estate professionals that will make sure you don't go it alone! Saving you pennies and dimes is the biggest part and we've put together three of the big costs you will need to be ready for so there's no surprises along the way.

Down Payment
Other than the cost of the home itself, your down payment is likely to be one of your largest expenses. While many people save up to 20% of their home cost to put as a down payment don't get stuck in thinking that big dollar amount is a stop sign on your road to home. It is the best way to go, but you can often put down much less or take advantage of special programs for buyers to help.

Earnest Money
Ernest?! Who is that?! Earnest money isn't necessarily a required cost, but in today's competitive market it is a good idea to have on hand. Essentially earnest money is a little bit like a credit you put on the house to show the owner you are serious and can help you stand out if things come down to a bidding war between buyers.

Closing Costs
Closing costs are basically the upfront fees involved in completing the mortgage process. This generally includes a loan origination fee, title examination and insurance, survey, attorney's fee, and prepaid items, such as escrow deposits for taxes and insurance. A good rule here is planning on 2-5% of the homes overall price.

While buying a home can seem daunting it's also one of the most rewarding accomplishments in the investing of our hard earned dollars. There's no better place to spend your money than in the place that you'll call home! Fortunately, it's easier to find the perfect place than you might think - and we can help! Talk to our agents today to find out how we can help!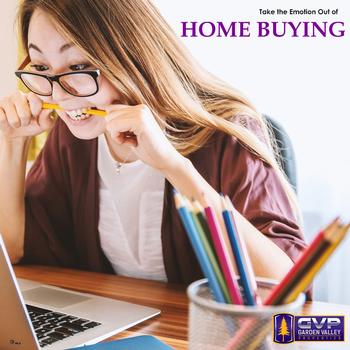 Take the Emotion Out of Home Buying
Trying to find a new home can be one of the most emotionally taxing things you might do. There are highs, there are lows, there are moments of just not knowing, and that can lead to even more stress. But the fact that you have emotions tied to where you will be making your life is good because it shows you care and are invested in your home. Any number of emotions are normal during the home buying process, but high emotions can lead to hasty mistakes, so it's important to meter your passion with good common sense. We've put together some tips to help you take some of the emotion out of buying a home in Idaho…

Be Strategic
Before you even begin looking for your new place, start making notes and mapping things out. Literally! A big part of where you live is WHERE you live and getting familiar with the lay of the land, local amenities, and traveling distances is one way to keep some very important factors in mind.

Set Boundaries
It can be hard to limit yourself but setting realistic boundaries can help you avoid disappointment down the road. Realize that you may not get every single thing you want in your perfect dream home but also know what things you can't compromise on. Setting limits on budget, area, and other factors can also help you streamline your searching as you won't spend time looking at homes that might not be available for your needs.

Approach Like An Investor
Remove your personal need from the real estate transaction. Step out of looking at the home based on the needs it will fulfill for your family and consider how the property may appreciate - or depreciate - over time as well as how desirable features in the home may be with changing trends. This will help you not only remain less emotional but it can also help you increase your return when the time to sell comes.

Work with an Idaho Real Estate Professional
How can you not?! Buying a home is one of the biggest decisions you will make in your life, so it's certainly not something you want to undertake alone! Having an experienced real estate agent who is familiar with the Idaho real estate market will prove invaluable whether you are buying or selling. We listed it last here, but in many cases finding a great agent is the best place to START!


Could Making a Move Make You Happier?
We're living in some interesting times, there's no doubt about that! Due to the health crisis and the challenges it's brought many more of us are working from home or spending more time in the home place. While that is generally good, it also allows room for a lot of introspection and looking at our lives - what may be working for us, as well as what is not.

Home should always be our safest place, or refuge, and a comfort during times just like these. None of that should ever have to be different, but over the last two years you may have been confronted with some things that given the chance you might change - and that's okay.

Studies have shown time and again that happiness is often and easily increased by a change of pace or in routine, so it makes sense that something entirely new in a place to live could help bring that about.

So, start where you are, look around at your home and think about what you would do differently starting over. Are these things you could accomplish where you are at by just making minor adjustments? Or, once looking, have you found things that simply can't be done in your current location?

In many instances, it's not our home itself that has to change. Life happens, plans go in a different direction, and you may love, love, love, your home but simply not be able to stay due to changing circumstances. Make the most of this situation and use it as an opportunity to pivot towards something you've been wanting instead of it just being a new obstacle.

Regardless of what stage you are at in your real estate journey we are here to help you make your next move as easy as possible! Don't hesitate to call on us if you're interested in buying a new home or selling your current home.
Don't Wait Until Spring to Sell!
It's often thought that the warmer months are the best times to buy or sell your home and that you may want to hold off until Spring. However, considering the real estate market in Idaho and the predicted outlook for the coming year those old rules may not apply. We're big believers in the idea that you should dig a well before you're thirsty and so we've put together some things you may want to consider if you've been putting off listing your home for sale until Spring.

Foremost, with fewer homes on the market in the colder months it means far less competition for your home, which in turn can mean not only a faster selling time but also a better price. Waiting until Summer might mean there are more homes on the market and your house is more likely to get lost in the shuffle.

Second, interest rates. It's pretty much the nature of the beast that rates will change, and generally they tend to go up the later in the year you wait. When mortgage rates go up, purchasing power goes down, discouraging many potential buyers.

The third thing is that there are plenty of motivated buyers in Winter time! No one wants to be left out in the cold so-to-speak and many folks don't get to choose when they need to move. Having your home on the market during a time when those people are especially interested due to their own time constraints could be very advantageous when it comes time to close.

Lastly of course is the simple fact that by starting now it gives you more time. More time to prepare, more time to find an agent you like and trust, as well as more time to start finding your own next home if you haven't already! So don't think the cold months have put real estate on ice - talk to your team of Idaho mountain property experts at Garden Valley Properties today!