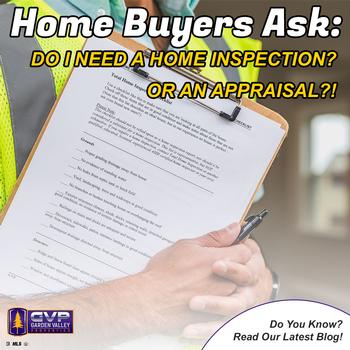 What is a Home Inspection? Info for Idaho Home Buyers
One of the early important steps when looking to buy a home in Idaho is to get a home inspection! A home inspection assess the condition of the home before closing and finalizing your home purchase. So, WHY is it important?

As the buyer having the home inspected helps you be aware of any existing, or potential future problems that the home might have. These can range from minor things like window drafts to larger things like foundation cracks - all of which will help you as the home buyer make an informed decision about your purchase. What's more a home inspection, and what it might discover, can even impact the cost of the home when you get to signing paperwork!

Speaking of home costs! You might be wondering how this compares to a HOME APPRAISAL. A home appraisal relates more directly to the market value of the home and is sometimes a recommended step from your lender as the value of the home is the amount which generally you will be borrowing against.

In short, an appraisal helps you understand a home's value, whereas a home inspection helps you understand a home's condition. BOTH are good ideas for buyers looking for their next perfect place - but! Take heart, you don't have to go it alone - your team of dedicated Idaho mountain real estate professionals here at GVP is ready to help! Give us a call or send a message today so we can help guide you home!
Why Is Homesteading In Idaho Becoming Popular?
It seems like in the last few years more and more people are getting interested in living 'the good life' in one way or another. This ranges from just seeking to get out of the city to plans for full self-sufficiency, and there are a number of reasons why so many people have started flocking towards a more independent lifestyle.

Yellowstone.
End of article. You don't have to read anymore if you don't want to, feel free to just take a look at our listings! Believe it or not the popularity of the television show Yellowstone has a lot of people wanting to get out into big sky country and cowboy up. Nothing wrong with that! And we're happy to help you find the perfect spread, partner!
Uncertain Times
Let's be honest, the times we life in are pretty interesting lately! That has plenty of people looking into creating more stability for themselves and their families by moving a little further way from the hustle and bustle. Thankfully Idaho has plenty of room to roam!
Freedom
It's just that simple. Every day it seems like there are more and more rules and restrictions to how you can live your life; having your own plot of land away from things provides a very real safe haven. Working on the land, living in the place you love, provides a unique way of life that can't truly be explained to anyone who hasn't lived it - and our beautiful Garden Valley is the perfect place to live that dream.
No matter what your reason for wanting to live the Idaho mountain life we're here to help!
Our team of experienced agents know the valley like few others and can even help you sell your home or property if you aren't ready to buy quite yet. Get in touch and search our site for the latest great homes and property in Garden Valley!
Stage Your Home Like a Mansion on a Budget
Making your home look its very best is an on-going challenge! Making it look great when it comes time to sell can be even more of a challenge - after all it doesn't make a terrible amount of sense to spend extra money on extra things that you'll be having to make room to move in a short amount of time. So what can you do if you want to stage your home to sell on a budget? Here are some great ideas to get you started!
Change the Lights
Updating your light fixtures, changing them to something new, or something that goes with the trends is always a good way to change the feel of a room without a lot of work or cost.
Custom Window Treatments
Whether it be new blinds, or drapes, or a modern glass texture to really add some pop - changing your window treatments can make a big difference in most any room. Windows are often where our eyes are drawn in a room, so it's natural that making changes there will get noticed.


Tie the Room Together
With a lovely area rug! Rugs do more than pad the floor, they give you an opportunity to add different colors and textures to one of the largest spaces in any room - the floor!


Decorative Moldings
It's a little something you can do to the room other than a fresh coat of paint that can really change how it feels. Consider adding crown or decorative molding to some of your larger rooms if space and style allow, as this can really add an air of sophistication to many designs.


Considering selling your home but don't know where to even start?
START HERE! Garden Valley Properties is here to help you at every step!


Two Things Idaho Home Sellers Should Know
A lot has changed over the last year in real estate, even here in the mountains of Idaho! This leaves many homeowners who have been thinking about selling not knowing what to expect this Spring. It can be hard to know what to think, if it's time, or if you should wait. Not to worry, we've concentrated things down into two main things you need to know if you've been on the fence about selling.
Houses Are Still Selling
The market goes up the market goes down - people still need somewhere to live and people are still buying houses. So if one of your worries is that houses aren't selling, don't worry! Houses are still selling. Houses are still selling at asking price - And with the right agent, and the right price, your home could very well be one of them
Details Matter
Price matters. Condition matters. Make no mistake, buyers have a lot of leverage right now - and a growing number of homes to choose from - so it's important to work with a professional Realtor to present your home in the very best light for the market.


Are you thinking about selling your Idaho home?
A lot goes into getting a home ready for market, but you don't have to go it alone. Our agents here at Garden Valley Properties are happy to help you at every step of the way. Get in touch to find out all we can do to make your next move a success!
Make Homeownership a Reality Even If You're Not Ready to Buy NOW!
According to recent surveys 8 out of 10 Americans considers owning a home to be a priority. For most it's an undeniable financial benefit along with all of the non-financial ones that are at the heart of the matter - home, family, sense of self, and happiness. But not everyone is ready to buy a home in Idaho - at least maybe not right NOW. So, what do you do?

Fortunately, there are a number of things you can start doing NOW even if you're not even close to being ready to move or buy a home. Here are a few ideas to get you started:

Improve Your Credit
Your credit score is the first thing lenders will look at when considering your loan. The higher (better) your credit score the more money you will be able to borrow and at a better rate. If a low credit score might keep you from buying a home you can always work with a financial advisor, but some other things you can do on your own include paying bills on time as well as keeping a balanced debt to income ratio.

Start Saving
Whether it's closing costs, moving costs, or the cost of the house itself one thing you simply can not have enough of is available funds! Be it pennies or dimes, start socking it away any way you can. Consider a dedicated savings account just for your home dream so that the money you put aside can gain interest as you work towards your goals.

Start De-cluttering
The less stuff you have the less stuff you have to move! Unless you're already living a minimalist lifestyle or upgrading to an immensely larger home it never hurts to take a look at all the things you have and trim out the things you don't really need - or at least don't want to have to move with you!

Find an Agent
It never hurts to find a Idaho real estate professional who knows the market for the area you want to live in! Even if it's a long time before you're ready to buy! Find a local agent who meets your style, your personality, and who is qualified to help you towards your dream.